The International Classification of Diseases (ICD) is an international standard used to classify diagnosis. This provides the medical community with a standardized method in classifying diseases and other health problems…
The International Classification of Diseases (ICD) is an international standard used to classify diagnosis. This provides the medical community with a standardized method in classifying diseases and other health problems. The ICD is currently managed by the World Health Organization (WHO). It is a set of codes that are grouped together by the type of health problem and the anatomical area that it affects.
Currently, the ICD is in its tenth edition. ICD 10 has been in used by WHO member states since 1994. It is separated into 21 groups or chapters. With these groups, ICD 10 is able to categorize up to 14,400 different types of diagnosis. If required, ICD 10 codes can be further expanded to over 16,000 codes by using its optional sub classifications.   For instance, codes for diseases of the respiratory system are classified under Chapter 10 while health conditions that affect childbirth and pregnancy are classified under Chapter 15. The United States, through the National Center for Health Statistics, has developed the ICD-10-CM (or clinical modification) of the code set for use in this country.  The ICD-10-CM is expected to be used for diagnosis coding in all health care settings for reporting conditions, symptoms and diseases for data collection, payment policy, research, and other purposes. The Centers for Medicare and Medicaid Services has created a new code set, ICD-10-PCS, for use.  These code sets are considered classification code sets and are expected to be used in the inpatient setting.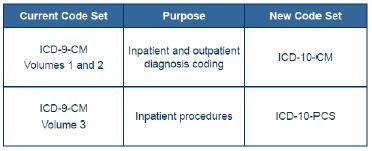 Unlike the usual annual updates, the ICD-10 codes are markedly different than the ICD-9 codes.  And because these codes are used in almost every clinical and administrative process and system, these will have to adjust.  The updated code sets will allow, and in fact will require, significant changes in the way Services are considered for reimbursement and coverage determination. Diagnosis Code Comparison

In addition to the increase number of digits ICD-10 also has terminology changes.  The new terminology has been added to account for current usage of medical terminology and detailed descriptions of methodology and approach for procedures. For example:

Based on the options we will face with ICD-10 it is critical that Providers get used to the documentation which will accompany ICD-10.  Keep in mind that the documentation requirements for ICD-10-CM will vary from ICD-9-CM documentation requirements in many cases. As a matter of fact clinical documentation improvement (CDI) will be vital to every practice. I actually have seen many tools to facilitate the transition by mapping from ICD-9 to ICD-10.  However there are many cases where there is no 1 to 1 translation.  In most cases one code under the ICD-9 will result in multiple codes under ICD-10.  For example: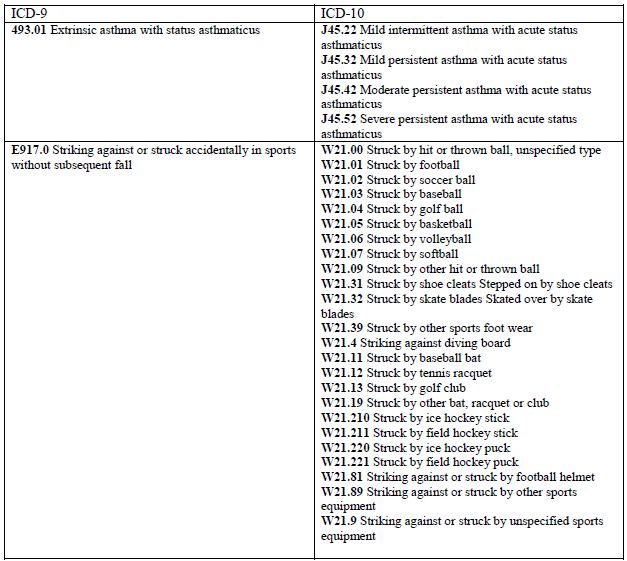 Other fifth-digit options '0' uncomplicated, '1' with (acute) exacerbation Code extensions (seventh character) have been added for injuries and external causes to identify the encounter: initial, subsequent, or sequela. The extensions are:
A Initial encounter
D Subsequent encounter
S Sequelae
In the particular case of Asthma these codes have been expanded to include the following concepts:
Severity of disease

Mild intermittent
Mild persistent
Moderate persistent
Severe persistent

Acute exacerbation
Status asthmaticus
Other types (exercise induced, cough variant, other)
Guidelines still exist that require providers to report to the highest level of specificity possible, however, it is expected that many Providers will ignore the clinical detail of ICD-10 and continue to code in a broad manner.  This trend to code in a broad manner may cause problems to the Providers based on the following:
Accurate representation of patient's condition will be easier to track based on ICD-10.
Trending of patient populations will be more accurate.  This data may be used more accurately to adjust payments.  In other words, the broader the codification the lower risk of mortality which then may result in a lower payment for services;
As always documentation must match coding.  Any variance between one to the other may be misinterpreted against the Provider with corresponding results;
Denial of claims.  CMS is already expecting that even with increased documentation there will be more denials or pending claims, and a future need for providers to submit additional documentation to support the codes;
Audits with corresponding consequences depending on the findings;
Physician Profiling by Private Payors;
Diagnostic tests and treatments require specific codes to qualify for payment.
Illness of severity supporting E&M codes
An additional issue to consider is the costs of this initiative.  CMS expects an increase time per visit of 15% due to the time that will be required to ask questions, observe, and document their findings to support the ICD-10-CM code set.  Additional costs identified by the RAND Corporation considered costs of training, productivity losses and system changes.  Overall RAND Corporation estimates an implementation cost of $425 million to $1.1 billion. Blue Cross and Blue Shield sponsored a study to determine costs to the health care industry in adopting ICD-10-CM and ICD-10-PCS. The study indicated a cost range of $5.5-13.5 billion for systems implementation, training, and loss of productivity, re-work, and contract re-negotiations during a 2-3 year implementation period. Over half of the costs would be borne by health care providers. Long term recurring costs for loss of productivity were estimated at $150 million to $380 million. In October 2008 the MGMA Sponsored a Study to calculate the costs of ICD-10 implementation and their estimate was $28,500 per physician.  The Robert E. Nolan Consulting Company also evaluated the costs of implementation and as part of their study provided a very interesting chart estimating the cost impact on Medical Practices.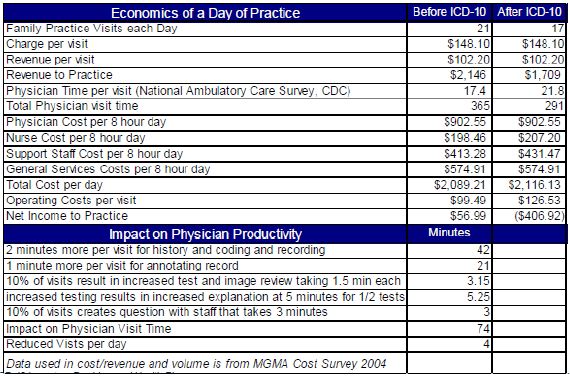 The reality of the situation is that ICD-10 is not going anywhere.  It is not going to be easy, fast or painless.  Therefore your best bet is to start looking at your process and get yourself and the relevant staff used to what is coming down and how will you tackle the coming challenges.  Don't assume anything and consider looking for professional assistance.