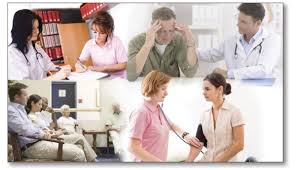 Have you heard this old song; Independent Practices will not survive these changes!!  I actually have been hearing this same song and dance for at least twenty years.  At one point in time was capitation, then HMO's and now is "Obamacare" and the exchanges. The way I see it is that as long as there are humans and healthcare professionals with entrepreneur spirit Private Practices will survive.  This is not the same as saying that if you are in Private Practice you will survive since those that do not adjust to their environment will not be as "lucky". According to a report posted by Accenture, a world known consulting company, just one in three physicians will remain in private practice by the end of 2016.  Another report from the American Medical Association shows a different set of numbers:
Physicians as practice owners decreased from 53.2% to 50.8%.
Solo practitioners decreased from 18.4% to 17.1%.
Physicians directly employed by a hospital increased from 5.6% to 7.2%
Physicians in practices that had some hospital ownership increased from 23.4% to 25.6%.
Travis Singleton, a senior vice president at Dallas-based physician recruiters Merritt Hawkins, says the AMA findings are largely consistent with Merritt Hawkins' data of physician demand. "The one number that is probably significantly different from ours is they have 60.7% physicians in practices of 10 or fewer and our number is at around 50%," Singleton says. "The core message of what they are saying is that independent and small practices are alive and well and a large portion of our delivery system." The way I see it is that, as with every business, those who fail to adapt will have to close their doors.  It has never been business as usual when you get down to it.  Yet if you are going to be in business you either learn how to run your business and manage the same, get someone that knows to help you out with the business, or simply get out and become an employee.