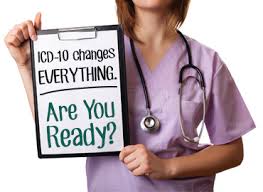 Time flies and while we in the healthcare business would like to look at it as Business as usual the reality is that this will not be the case.  Take for example the changes in coding which we all know as ICD 10. I do have to admit that the implementation of ICD 10 was not as painful as I expected, yet, one of the potential reasons for this may have been the grace period that was given to all healthcare professionals and organizations. Regretfully, this grace period is about to end so this may be the best time to tighten our belts and look at our practices to see if we will be able to ride the coding wave without the protection of the waiver.  What I mean with "tighten our belts" is to take preventive measures to gauge current trends and coding practices in an environment after the grace period. To keep it simple I'll recommend two simple steps:
Review your claims to see if there are any unspecified codes.  If so find the right code and train your staff in the use of the same;
Conduct an audit of your medical records with emphasis on matching the codes with the medical records.  Ideally this audit should be done by a subcontractor with a certified coder as to ensure objectivity.
Of course there are many other steps that may be advisable but these may vary based on your own operations so in case of doubt simply contact us.