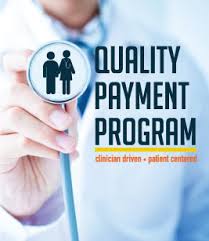 MACRA stands for the Medicare Access and CHIP Reauthorization Act and is basically the new payment model that the Centers for Medicaid and Medicare Systems (CMS) proposed to replace the current payment system. The basics of MACRA are as follows:
Payment Models

Merit-based Incentive Payment System (MIPS).  MIPS applies to eligible clinicians (physicians, physician assistants, nurse practitioners, clinical nurse specialists, certified registered nurse anesthetists, and groups that include such clinicians) whose payment adjustment will be based on a composite score relative to their performance in each of four categories (see below).

Quality: 50%
Advancing Care Information (EHR Meaningful Use): 25%;
Clinical Practice Improvement Activities: 15%:
Cost or Resource Use (based on Medicare's data): 10% percent of total.

Alternative Payment Models (APMs). APMs are a high risk model with greater probability of profit.  Consider this a capitated contract were any overruns, in terms of patient care, will become the responsibility of the organization or eligible clinicians.  CMS defines the following models as acceptable under the APM:

CMS Innovation Center Model (other than a Health Care Innovation Award)
Medicare Shared Savings Program Accountable Care Organizations (MSSP ACOs)
Demonstration under the Health Care Quality Demonstration Program
Demonstration required by federal law
Note: We expect that most clinicians will be paid under the MIPS model, however due to the differences between these programs and the complexity of the same we have decided to identify the payment model and how they affect each topic below.
Quality initiatives

MIPS

Physician Quality Reporting System (PQRS)
Value-Based Payment Modifier (VBPM)
Meaningful Use (MU)
Clinical practice improvement activities (CPIA)

APM

 Medicare payments changes.

MIPS

The best way to explain payment under MIPS is by utilizing a bell curve were performance, in accordance with CMS parameters, will result in payment adjustments.

Below: reduction
Mean: No adjustment
Above: increase

Payment timeline

2016 through 2018: 0.5 % physician fee schedule update each year.
2019 through 2025: Based on eligibility

Payment Adjustment

Measures start to count as of Jan 2017 but adjustments on these measures will not take place until Jan 2019.

APM

5 percent lump-sum bonus on your Medicare payments for 2019 through 2024 plus any incentive paid through existing contracts with the qualified APM (e.g., MSSP).

Authorized exceptions

Healthcare Professionals in their first year as Medicare Providers;
Providers whose Medicare patient volume fall below the threshold (not yet defined);
Providers under Advance Payment Models.

MACRA implementations status as of Sep 2017 is unclear as there are several organizations complaining that the complexity of the same may affect patient care and physician response towards Medicare participation.  CMS Acting Administrator Andy Slavitt commented during a Senate hearing: "We're putting in an awful lot of change," Slavitt told the committee. "Too much change on top of an already burdened physician practice is not where we should be going." We don't know for sure if MACRA will be delayed but so far all signs suggest that the rule will be finalized by Nov 1st, 2016.